So you'd like to advertise on the radio but don't know where to start? Well, by following the procedure below, we can take you through the whole process from giving us the initial information we need through to providing you with a finished audio commercial.
Firstly, just click on the
Contact
tab or email link below to tell us who you are, what you'd like to advertise and to give us some essential details about your product or service. We can then start the process by writing you a script to fit your requirements - in a standard decimal length from ten seconds upto two minutes or more! Just bear in mind that the longer the advert is the more it costs to produce
and
the more it will cost each time it is broadcast "on the air" at your chosen radio station(s). A 30 second duration fits most people's requirements and sometimes "less is more" to get a clear message across.
We can keep it simple or turn it into a major production piece with music, sound effects and multiple voices, depending how much you want to pay. Once you approve the script we can produce the final commercial and only then do we bill you for the cost of production

- which is a quick and simple process using your email address and your debit or credit card details via
PayPal
on a secure server. Cheques are also acceptable but must be received and cleared before the advert is distributed to your station(s) and licenced for radio broadcast.
You can find a selection of previously produced commercials for other advertisers on the
Audio
page. Our
Prices
can be found on the next page.
Of course it may be a professional voiceover for a corporate presentation, video or even your own web site that you're looking for. We can record and produce it from your own script, or write one for you, for a fraction of the price most production houses would charge.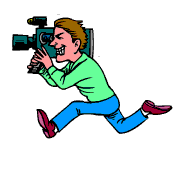 In 2010 we added corporate
Media Training
in both Radio and TV to our portfolio. We can teach you or your employees vital skills as interviewees for when the press come calling! Just email us your requirements via the link below and we'll get back to you.
Our Prices